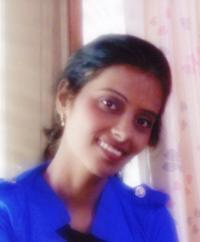 Hi, I am Julia Fernandes. Julia means blossom (youthful) :)
With more than ten years of cumulative writing experience that includes a three-year stint in journalism, the passion for writing has stretched beyond the scope of my work to a space where I am free to think, feel and share my thoughts and experiences in an undiluted way.
A Commerce graduate from University of Mumbai, India, I did my schooling from Holy Name High School.
As a Journalist, I have covered varied beats right from the enterprise IT space to infrastructure, construction, philanthropy, etc. My own personal interest lies in writing about God and subjects close to my heart.
Here's the link of all my online articles:
http://www.cxotoday.com/author-stories/by-line/Julia%20Fernandes/
I relax by listening to soft and soothing music. I like to spread cheer by looking at the lighter side of things. A good laugh is good for health. I love babies and kids a lot. I see God in every little child. It's the small things that really make me happy and it is the small things that also make me cry.
I am not single
I am not committed,
God has kept me on reserve
For the guy who deserve
I read somewhere that when you have faith and hope for your future, others with faith and hope will find you. How God brings two people together is a mystery. Yet, when you trust God to make the most critical choice in your life, God invariably picks the best for you. So, like me, if you too are waiting for God to lead you to His choice, keep up the faith and believe that He will.

For God is great
He gives the best to those who wait...:)